EVA BC is governed by its board of directors that represent our members from 11 regions across the province. Directors are elected at our annual general meeting held each year and serve for two-year terms.
Sheri is a registered social worker in BC and has been involved in the anti-violence field since 1998. She has worked in transition house programs, Community-Based Victim Services, Stopping the Violence, and PEACE programs.
Born and raised in Prince Rupert, Sheri is an ocean girl at heart, but her life path has led her inland to the beautiful Southern Interior region of our province. She moved to Merritt in 2010 and two years later, became the Agency Director for Nicola Valley Community Human Services Association (dba Nicola Family Therapy). In addition to her director duties, Sheri carries a full clinical caseload and provides individual, relationship, family, and group counselling. Sheri also serves on the board of Nicola Women in Action, which governs the Merritt Police-Based Victim Services Program.
Sheri holds a bachelor of science degree, majoring in psychology and a master of social work degree, both through the University of Northern BC. Sheri's master of social work thesis research focused on vicarious traumatization, the impacts of front-line service, and how we can best support our front-line workers.
Outside of work, Sheri likes to play with, and re-experience, life through the eyes of her young son, walk her yellow Labrador, and engage in creative activities whenever possible.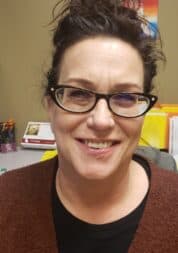 Lynnell Hallikowski, Co-Chair
North Central · Region 10
Lynnell has worked in the anti-violence field since the early 1980s. She started as a volunteer with the Prince George Sexual Assault Centre (PGSAC), then moved on to similar work throughout the region, followed educational pursuits, and had four amazing children. She returned to PGSAC in 1997 as an STV Counsellor and is now the executive director. 
Lynell's passion for this field comes from a long line of family members who have dedicated their lives to community service, advocacy, and anti-violence work.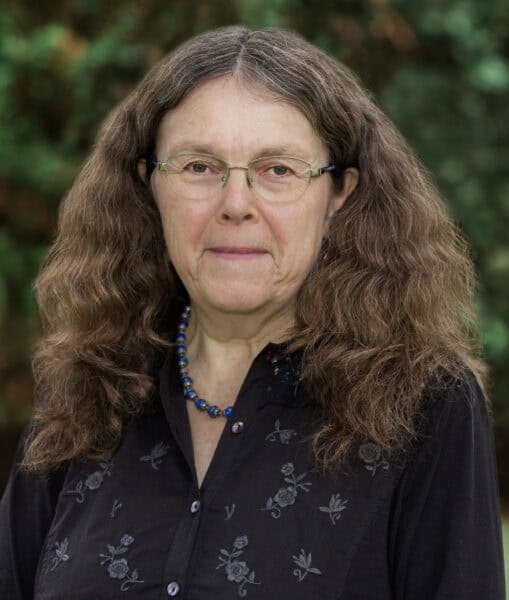 North Vancouver Island · Region 1
Anne has worked at Comox Valley Transition Society on the unceded traditional territory of the K'omoks First Nation for thirty years, where she served as Transition House Coordinator, supervising Stopping the Violence (STV) and Prevention, Education, Advocacy, Counselling and Empowerment (PEACE) programs, and coordinated the Comox Valley Violence Against Women Community Coordinating Committee. Anne is currently a grant writer and continues to serve as a resource to all Comox Valley Transition Society programs.
Anne has an extensive background as a community activist and has served on a number of boards. In 2018 she was appointed to the board of the Island Health Authority where she is currently in her third term.
She served as president of the Campbell River, Courtenay and District Labour Council and was a regional director on the board of the Health Sciences Association of BC (HSA BC) for eight years where she participated in provincial and national union women's committees advocating for unions to enhance their responses to intimate partner violence and lobbying provincial and federal governments on related issues.
Anne had the good fortune to be raised by a mother who was a feminist activist. She has a deep appreciation of all those who came before us on whose shoulders we stand, and considers it to be a privilege to work alongside others who share a vision of a better, more equitable world.
Anne is married to a retired union educator and has four children and four grandchildren, all of whom bring her joy.
Donalda Beeson is the Manager of Therapeutic Services and Quality Assurance at Robson Valley Community Services (RVCS) supporting the communities of Valemount and McBride. She has been with RVCS for over a decade spending the majority of her time as an STV and PEACE counsellor. 
An avid downhill mountain-biker, Donalda also chairs the Valemount Bike Park committee and runs an in-home studio where she shares yoga as regularly as the rest of her commitments allow. 
Nell has a bachelor degree in psychology and a bachelor of social work. She worked for 20 years in Montreal as a women's counsellor, including seven years lecturing and supervising social work students at l'Universite du Quebec a Montreal and l'Universite de Montreal. She then worked seventeen years as a Stopping the Violence counsellor in British Columbia (Richmond, Surrey, and Haida Gwaii). All her experience has been working with women impacted by violence, sexual assault, and historical childhood abuse.
In 2010, Nell had the honour of being adopted into the Naa 'Yuuwans X̱aaydaga clan. She shares her home with two loving rescue cats.
We thank our board of directors for their ongoing commitment, support and direction.
If you work with a member program and would like to run to serve on our board, please email us at evabc@endingviolence.org.