Our team is dedicated to supporting member programs and partners across the province to improve prevention and response for individuals and communities impacted by gender-based violence, harassment and hate.
Ninu Kang comes to her leadership role with EVA BC with over 30 years of work experience in the areas of newcomer settlement, gender-based violence, and justice, equity, diversity and inclusion. With an academic background in counselling psychology combined with frontline work experience, she has developed key skills in clinical counselling, facilitation, and senior leadership.
She is inspired in her work by young people who are the future of change. She aspires to learn from young people and stands committed to mentorship where needed.
In her spare time, she loves to hike in the beautiful lush BC trails.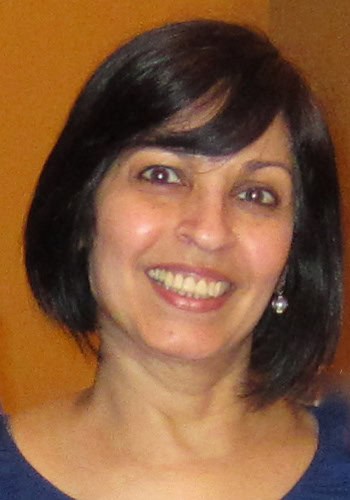 Director of Finance and Administration
Habiba has worked with EVA BC for more than 20 years and she has seen it grow from a staff of three employees to now many more than that. Habiba has lived in various countries and speaks multiple languages. She now gives back to the community by volunteering and doing freelance work as a translator with the non-profit settlement organization, MOSAIC.
For Habiba, it's the thought of making a difference that keeps her coming to work with enthusiasm.
In her spare time, Habiba enjoys hiking, gardening and sewing. She is a proud mother of two amazing grown up children and loves to spend time with her adorable granddaughter.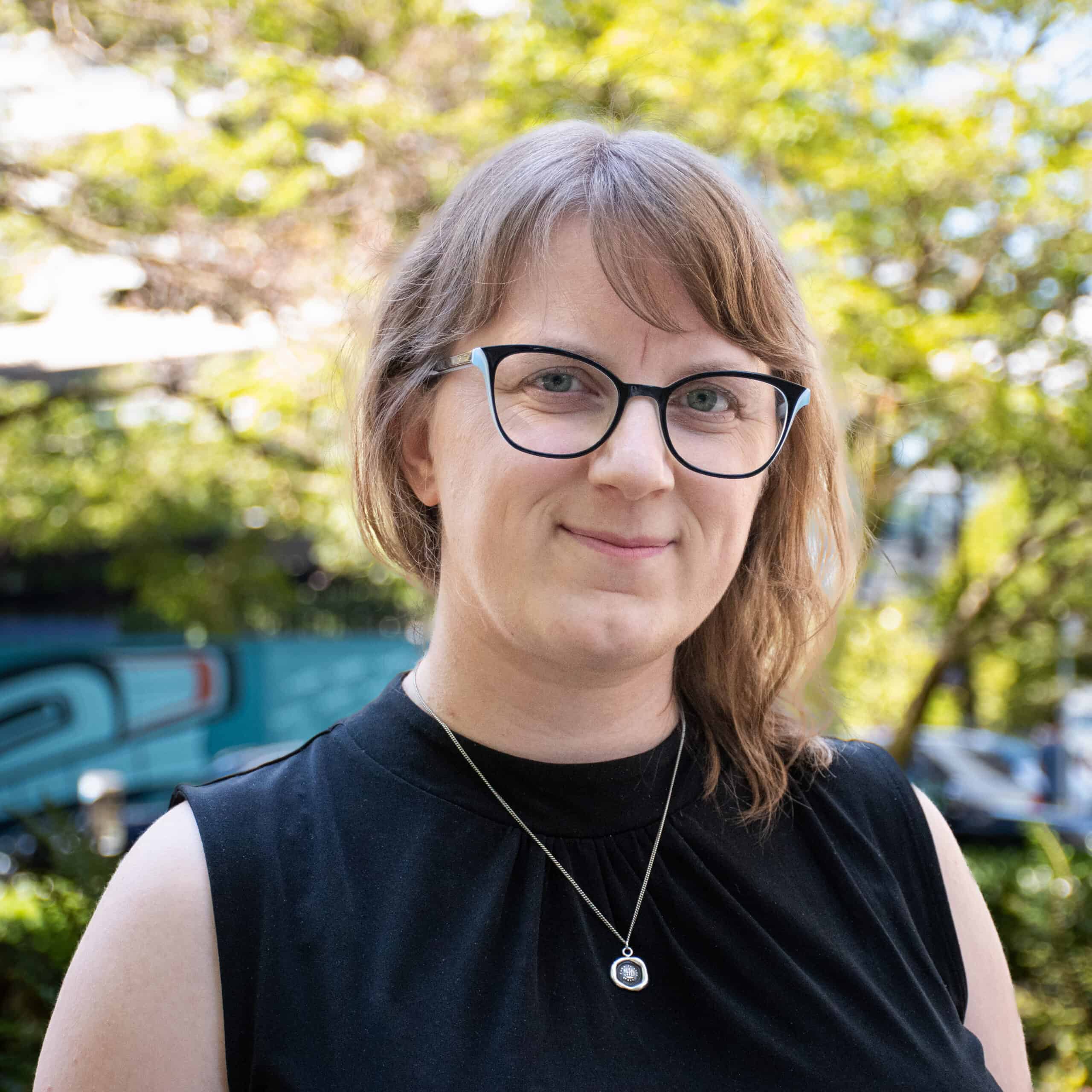 Director of Provincial Services
Kate is a researcher and educator in the area of gender-based violence and trauma. She completed a PhD in criminology and a non-profit management certificate at Simon Fraser University.
She has volunteered or worked in community-based, police-based, court-based, and prison-based programs in British Columbia and Ontario. She is an adjunct professor in the School of Criminology at Simon Fraser University, and is affiliated with the FREDA Centre for Research on Violence Against Women and Children.
Kate is passionate about continuous learning, collaborative leadership, and organizational wellness.
Outside of work, she enjoys time with her wife, rescue dog and cat.
Director of Community Coordination for Survivor Safety (CCSS)
Wendy has worked in the anti-violence field for over 20 years. She supported and advocated for sexual assault survivors at the Sexual Assault Service at BC Women's Hospital, educated service providers and supported communities to improve their sexual violence response. Wendy also held roles as an STV counsellor, transition house worker, and Community-Based Victim Services (CBVS) worker.
Wendy is passionate about advocating for survivors of gender-based violence, especially those who face the greatest barriers to access services. She brings an intersectional feminist perspective to her work and a commitment to doing the work.
She is excited to work with the incredible people at EVA BC and around the province every day. She learns so much and every day is different. 
In her spare time, Wendy enjoys reading, iced lattes, volunteering at The Dance Centre in Vancouver, supporting dance and the arts, spending time with family and friends, and being outside.
Program Coordinator of Provincial Services
Alice is a first-generation Chinese settler residing on the unceded Coast Salish territories of the Musqueam, Squamish, and Tsleil-Waututh Nations. She holds a bachelor's degree in international studies and a bachelor's degree in social work. Some of her areas of practice are in sex workers' safety and rights, victim services, people with precarious immigration status, older immigrants, and harm reduction.
She feels excited when she works with others to examine our ways of doing and co-construct a more supportive and equitable anti-violence community.
She hopes to continue her learning and eventually spend more time on narrative practice and community organizing. She recharges herself by spending time outdoors, dancing/moving her body, cooking, and reading.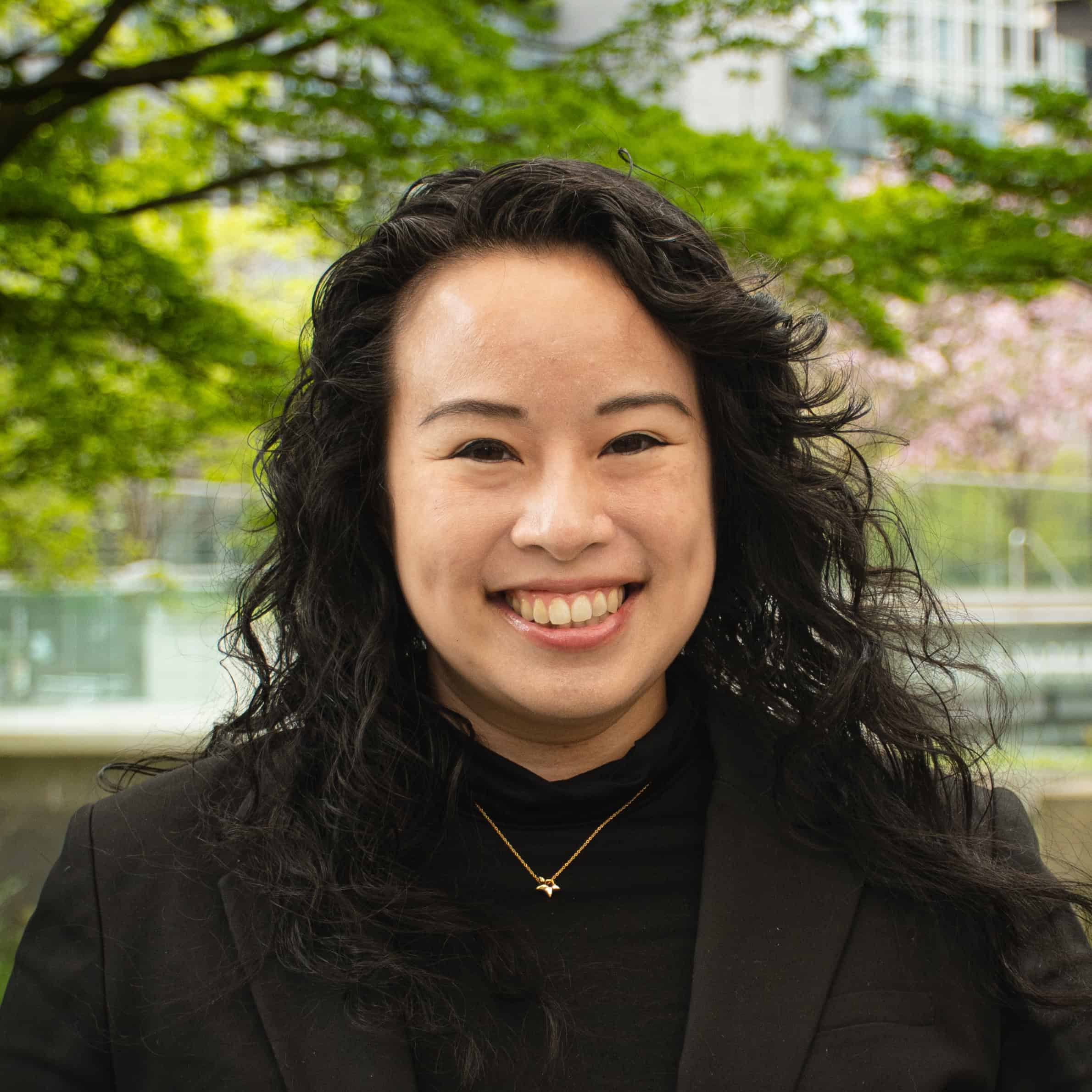 Administrative Coordinator of Finance and Administration
Before coming to EVA BC, Alicia gained work experience in the business sector but she notes feeling a disconnection with the corporate sector she worked for. She says that being part of EVA BC is different, and she enjoys challenging herself on the administrative and organizational tasks at the heart of her daily ongoings.
Alicia finds enthusiasm to come to work every day from being with her coworkers – and from the amazing view overlooking Vancouver's Coal Harbour from her desk. She says it's the feeling of accomplishment once she completes a project or assignment that is the ultimate cherry on top of her metaphorical sundae 
Alicia is a foodie, and enjoys good food with good friends.
Program Lead of Community Coordination for Survivor Safety (CCSS)
Andrea has over 10 years of experience working as a violence prevention advisor in healthcare where she was part of a team responsible for delivering education and improving organization wide policies, procedures, and systems to protect healthcare workers from physical and sexual assault, threats, and verbal abuse.
She has a master's degree in occupational and environmental hygiene and an associate certificate in trauma and crisis intervention. She's had the opportunity to be a guest speaker at the UBC Faculty of Medicine's Doctor, Patient and Society course lecture and tutorial session on intimate partner violence. She is passionate about helping and protecting survivors of gender-based violence.
Andrea is incredibly grateful for the opportunity to work with the amazing EVA BC team and excited to advocate for and impact change at a provincial level.
In her spare time, she enjoys spending time with her dog, gardening, and curling.
Ashley Humphrys (she/her)
Manager of Social Enterprise
Ashley found the passion that brought her to work with EVA BC through volunteering at a crisis line and working as a facilitator for violence prevention programs.  
She started her career in the for-profit sector where she worked in project management, communications and human resources. In that work she found she was able to drive philanthropy through the company and start many initiatives to support local non-profits and causes. The feeling of engagement and purpose she found through these efforts made her decide to pivot full time to communications and prevention education work in the social services sector, specifically for efforts responding to gender-based violence.
Ashley loves working with advocates for equality and is passionate about driving measurable change.
In her spare time, she loves to travel and see amazing new places and to understand different cultures.
Fiona has a degree in English literature from UBC and an applied communications certificate from SFU. She continues to study dialogue and civic engagement at SFU and is committed to bringing openness and humility to life long learning. Before coming to EVA BC, she worked in communications and member engagement for a membership non-profit supporting the co-op housing sector.
Fiona is inspired by the opportunity to share the stories of the often unsung work of everyday heroes in the anti-violence sector. She is rewarded by her work with the caring, motivated and insightful EVA BC team.
When not at work, Fiona can be found running local roads or mountain trails, or having creative adventures with family, friends or a good book and her two affectionate cats.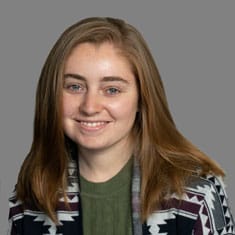 Program Lead of Community Coordination for Survivor Safety (CCSS)
Fiona is a graduate of Royal Roads University with a BA in justice studies. With previous communications and program coordination experience in the international cooperation and restorative justice sectors, she comes to EVA BC passionate about improving provincial and community coordination through open, honest collaboration and the use of modern technology and software.
Fiona finds motivation for her work through the people in the anti-violence sector who work selflessly with survivors daily. In 2021 she started volunteering for WAVAW's crisis line, as a way to stay connected to the frontline and the experiences of survivors. 
She likes to spend her spare time with family and friends, making lots of sweets, and breathing in the fresh air while biking, camping and hiking on the West Coast. 
Gurpreet Chauhan (she/her)
Administrative Coordinator of Provincial Services (on leave)
Gurpreet has a BA in psychology from Kwantlen Polytechnic University and a law enforcement studies diploma from the Justice Institute of British Columbia.
When not working, she enjoys biking local trails, discovering new restaurants and searching for different baking and cooking recipes to try.
Kiran comes to EVA BC with a background working in non-profit settings to support mental health, child and youth care, and victim services. Most recently, she held the role of a manager for almost five years providing oversight to a victim services team supporting survivors of sexual assault, intimate partner violence, human trafficking, and elder abuse. She is currently furthering her knowledge and awareness of the justice system through the Justice Studies Master of Arts program at Royal Roads University.
The engaging team at EVA BC makes Kiran excited to collaborate and brainstorm discussions around current justice issues with them to help raise awareness at a provincial level.
In her spare time, you will find her outdoors in nature (near water, trees, or mountains) or bingeing on a good, light-hearted Netflix series.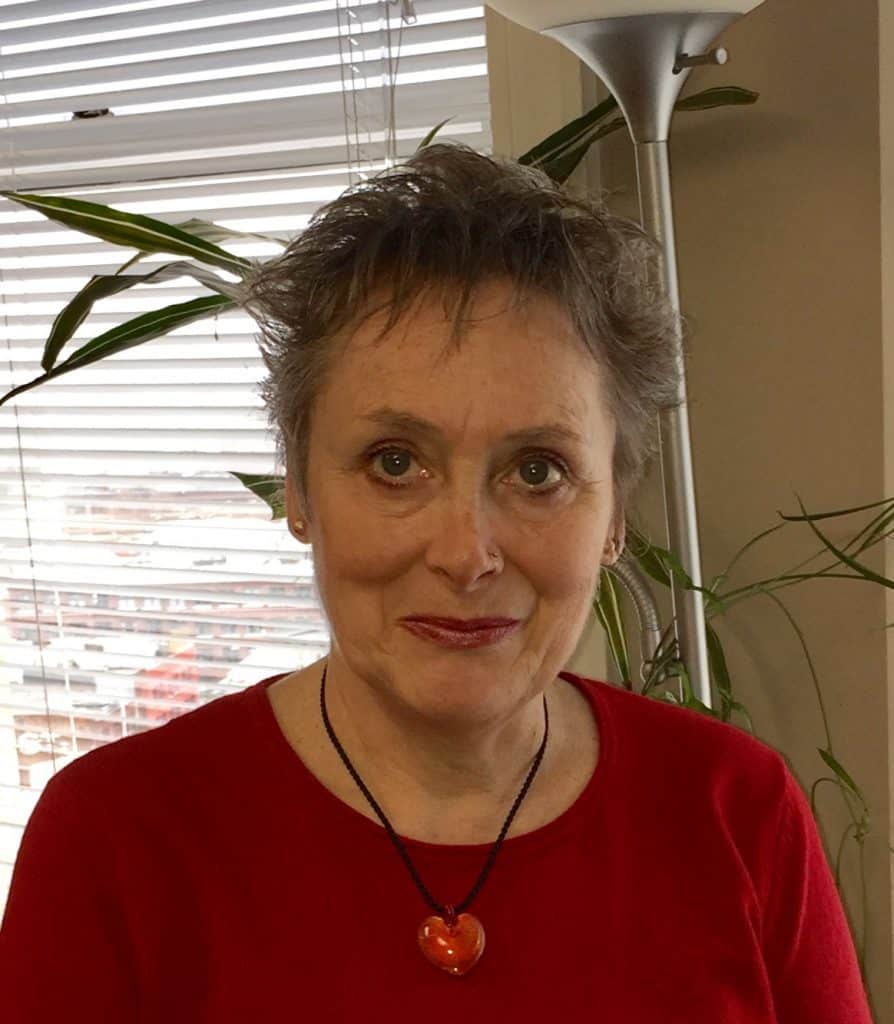 Manager of Provincial Services (on leave)
Laura has worked in the anti-violence field for over 25 years and has extensive experience as a frontline worker and program manager, primarily in women's centres. She has been with EVA BC since 2015.
In her Victim Services work, Laura supported survivors of gender-based violence, with a focus on advocating for marginalized women and children. She was awarded a Certificate of Recognition from the Surrey RCMP for her work on a high profile sexual assault case. 
Previously, she was a life skills facilitator, family support worker, transition house worker, Children Who Witness Abuse (now PEACE) program coordinator, therapeutic foster parent, reporter and adult educator.
Laura shares her home with a spoiled Pekinese/Coton du Tulear designer dog. She has an adult daughter and two grandchildren of whom she is ridiculously proud. Laura could be an accomplished cook, gardener and writer if she did not waste so much time on social media.
Perminder Flora (she/her)
Anti-Violence Program Lead of Provincial Services and Project Lead, SHARP Workplaces of Prevention Services (on leave)
With almost 30 years of experience in the anti-violence sector, Perminder brings an unwavering commitment to facilitating culturally responsive and trauma-informed access to violence prevention services for victims and survivors across diverse communities.
Perminder is a graduate of SFU and began her career providing direct services to victims of crime and counselling support to survivors of gender-based and sexual violence. Prior to joining EVA BC, she worked in various roles at MOSAIC where she developed and implemented programs that addressed the intersecting systems which create barriers for multiculturally diverse communities. Perminder uses the knowledge she gained from front line roles to inform the development of new projects and initiatives to support survivors and service providers and contributed multiple trainings, policies and best practices across sectors and nationally.
Perminder brings her enthusiasm and expertise to the EVA BC team and supporting the development of the SHARP Workplaces program.
Renee comes to EVA BC with a background in editing and operations coordination in a corporate setting. She is open to the continual learning required in the anti-violence sector and wants to help create a community where women are safe.

She comes to work with enthusiasm because of the passion for gender equality and the kindness she finds from all the people she works with.
In her spare time, Renee loves to cook, bake, read and spend time with her two best friends – her two cats.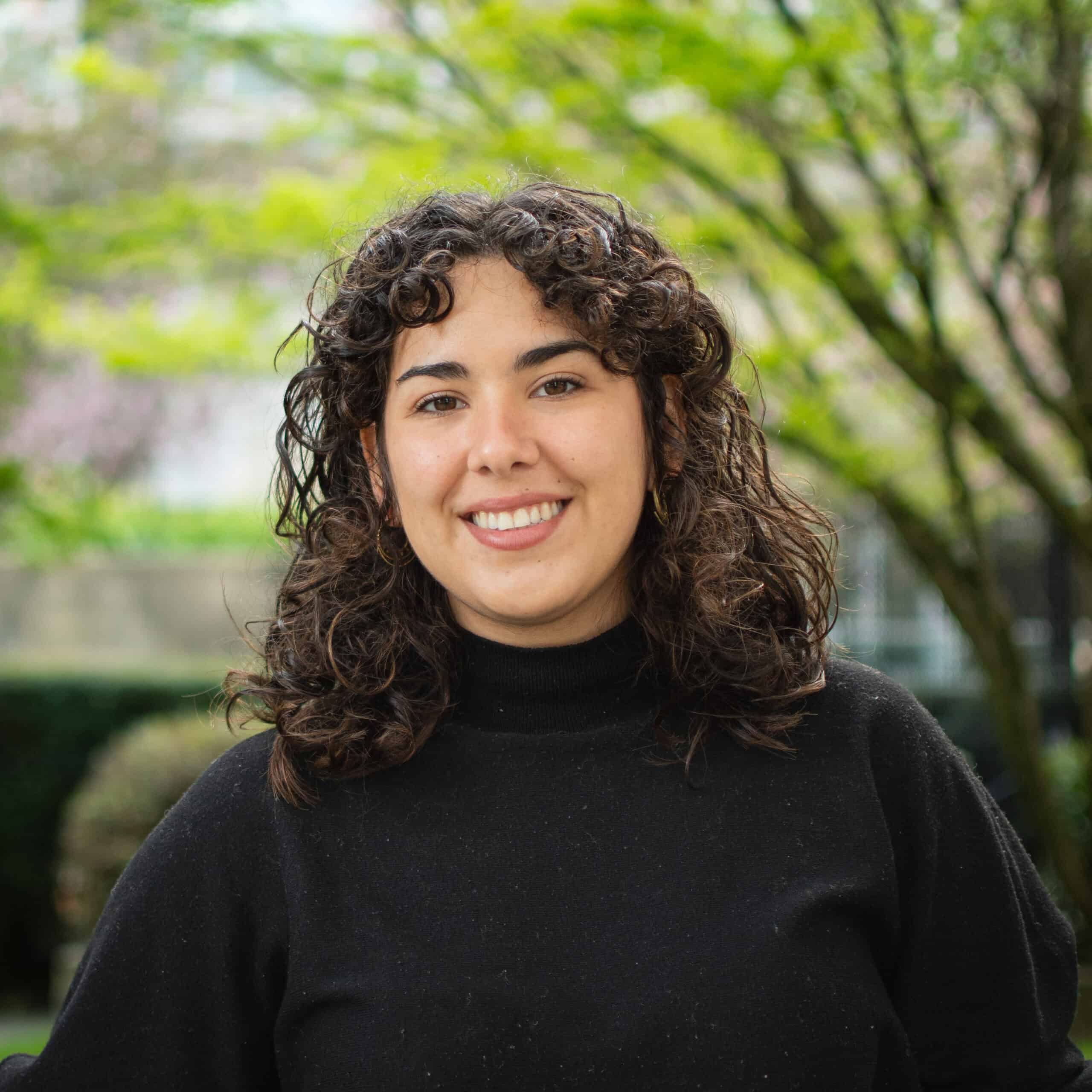 Samantha Matute Arrieta (she/her)
Program Coordinator of Prevention Services and Communications
Samantha comes to EVA BC with a background in social sciences and humanities, focused on the impacts of political and economic decision-making on marginalized and vulnerable communities. She previously worked in the settlement sector providing leadership training for newcomers.
At EVA BC, Sam is the coordinator for our Anti-Racism and Hate Response Training. She also is a key member of our communications team, building strategies and visual design. Sam brings a purposefully relational, anti-oppressive, anti-racist and inclusive lens to all her work.
Sam finds enthusiasm for her work by sharing space with and learning from others who strive to find solutions for the issues our communities face, and ensure that connections are built with purpose.
In her spare time, she likes to make art, play tennis, go to the beach, and read.
PROGRAM LEAD OF
PROVINCIAL SERVICES
Sarah comes from a background in fine art and critical theory. Before coming to EVA BC, Sarah served in frontline work and project coordination with non-profit organizations supporting survivors of sexualized violence, specifically with individuals who have experienced trafficking, exploitation, and newcomer populations.
Driven by a commitment to inclusivity and anti-oppressive practices, Sarah is passionate about developing services and policies that bridge theory and lived experiences — centring listening practices to learn and unlearn. Sarah is interested in translating ideas into authentic and meaningful actions.
Outside of EVA BC, Sarah teaches screenprinting workshops, reads, knits, occasionally makes art, and goes thrift shopping.
Administrative coordinator OF PROVINCIAL SERVICES
Warley is a dedicated professional with a passion for the non-profit sector and brings a solid background in organizational leadership, business development, customer service, and office administration to his work with EVA BC.
Whether working with volunteers, managing donor relations, or developing strategic plans, he is committed to helping non-profit organizations achieve their missions and make a meaningful difference in the world. He currently volunteers as a project coordinator for Rainbow Foundation of Hope. Warley is excited to now be an advocate for EVA BC's work.
In his spare time, he is friendly and enjoys practicing sports and catching up with his friends. He (absolutely) loves movies and series, not to mention traveling (it's his passion). He tells us that some people say that he is a man of few words (lol).