EVA BC was pleased to receive a donation of $400 from the Feminism Club at Burnaby South who raised the funds in their 16 Days of Activism to End Gender-Based Violence campaign in November and December, 2022. 
The Feminism Club started back in November 2021, when then grade 11 Burnaby South Secondary student Ericka had the idea of creating a club to respond to gender-based violence and help create change in their school.
She shared the idea with her friends Onisha and Cayleigh. "When Ericka approached me with the idea for the club," Onisha says, "it hadn't even crossed my mind that we should do this, and I said 'that's a great idea!'"
"With the #metoo movement, and so many people posting their stories, we just had to add on to that and create a safe space for people," says Onisha. 
"We hadn't seen [or heard] that much talk and awareness about what was going on in the school," says Cayleigh.
"During COVID, we noticed how many kids from our school were coming forward with stories," says Ericka. "We just wanted to let everyone know that there is help for you and people will be there to support and give direct access to help, and they have somewhere to go."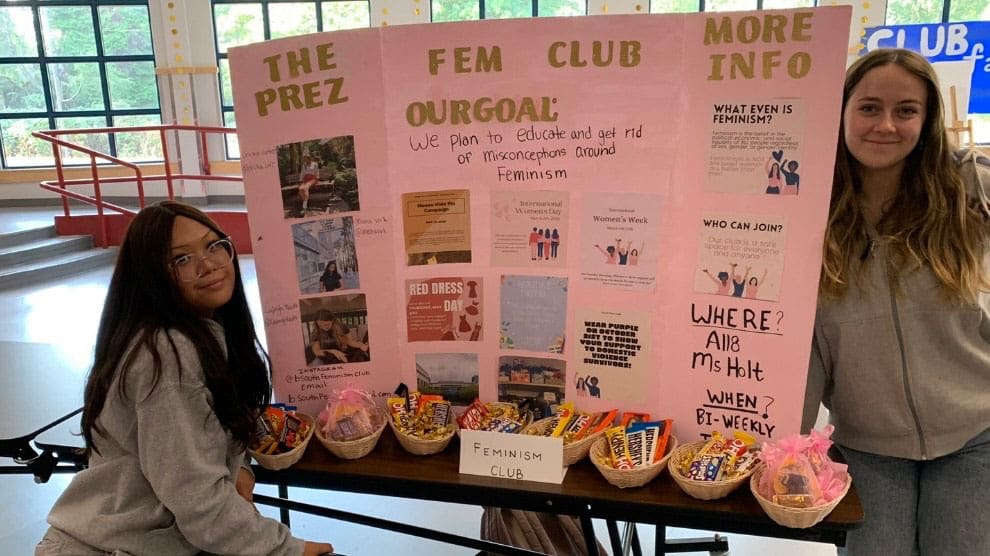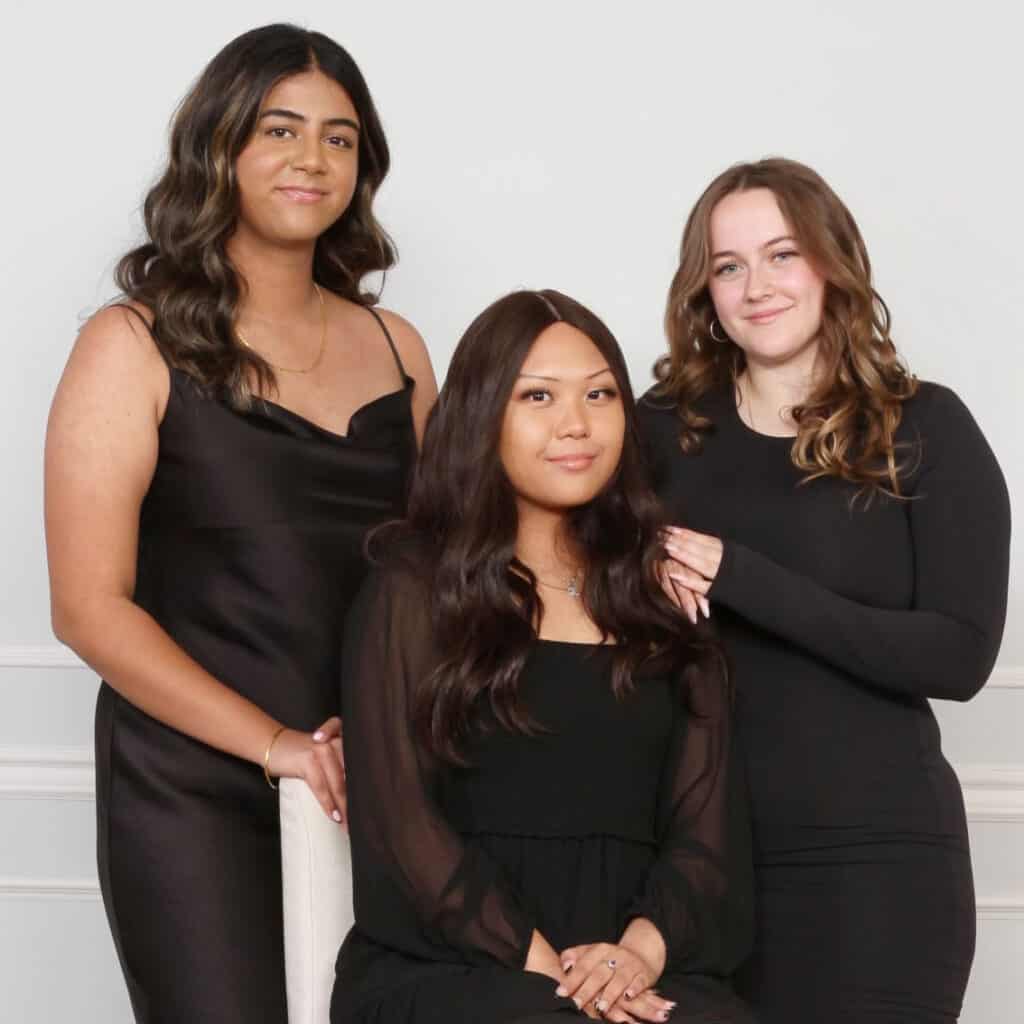 The three brought the idea to their social studies teacher, Stephanie Holt. Stephanie told them that the school had a feminism club about five years earlier, but it hadn't been active since the students involved had graduated. She said she was skeptical at first since the previous club struggled with engaging students, but once she helped them launch, she was impressed with the numbers of students who showed up. 
"When I saw how packed the room was on that first day, I was shocked," she says. "It really showed that there was a need and a desire for a place to discuss issues facing women."
Ericka agrees: "we were kind of shocked how many people were down to support us!" 
"On our best days," Cayleigh says, "we have had 30 other students come to the club meetings. That's, like, really empowering to see…they are all ready to help you with what you want to go forward."
But there was also push back from within the school with some hateful messaging from an Instagram account calling itself 'the misogyny club.'
The club-founders had read about the 16 days of Activism to End Gender-Based Violence on Stephanie's social justice calendar back in November 2021, but since they'd just started the club at the time, they weren't ready to launch a full campaign until 2022. "We decided to do the [16 Days] campaign as I feel like a lot of people don't understand domestic violence," says Ericka.
"I think that the conversation needs to change," says Onisha. "We should talk about it in classrooms. . . .it is not going to get better until we have conversations."
November 25 is the International Day to Eliminate Violence Against Women and December 10 is United Nations Human Rights Day; between the two December 6 is the National Day of Remembrance and Action on Violence Against Women that remembers the 14 women killed at the L'ecole Polytechnique in Montreal on December 6, 1989. 
In their first year, 2021, for December 6, the club held a Purple Ribbon Day. Students were encouraged to wear purple and for those who didn't the club made ribbons and handed them out. 
"When they did the Purple Ribbon campaign the first time, they faced some backlash, but it didn't deter them," says Stephanie. "This year, the number of people wearing purple and taking purple ribbons in December made them proud ⸺ they could truly see the difference their voices were having."
Looking back at the campaign and their year as a club Ericka says "we were really happy ⸺ we didn't think we'd get that many people involved.".
Over the full 16 Days campaign in 2022, they held donation collections at lunch, asked people in the hallways to donate to support the cause and set up an online payment system for teachers and parents. They donated the proceeds to EVA BC.
"I really like how EVA BC offers so many programs," says Ericka.  
The group will still hear sexist or negative comments, and then the person will add "relax, it's a joke," a sign to them that not everyone is taking the issue of gender-based violence seriously. "Joke or not," she says, "it still amounts to a bigger issue." 
Their school has a safe-school specialist who they work with and Stephanie, as the club's sponsor teacher, has an open-door policy. With this and the Feminism Club they are able to provide a safe feminist space with resources for students. 
With the club founders now in grade 12 and set to graduate in June, the three are mentoring successors to keep the Feminism Club going. 
"There is more that can be done," says Cayleigh. "As students we can only do so much. But if we keep trying there is still a lot that can be fixed."
Stephanie Holt agrees, and is optimistic. "The fact that we have so many students now involved and that they are already training the young women who will carry on the club following graduation really speaks to the legacy of their efforts."